Rocky Mountaineer Holidays in Canada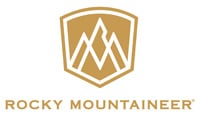 The Rocky Mountaineer® Train offers spectacular rail journeys across Western Canada and the Canadian Rockies in the spring, summer and autumn (fall) months.
Rocky Mountaineer Schedule Downloads [includes rail only rates]
The Rocky Mountaineer train operates through the Canadian Rockies in either direction to Vancouver from Calgary, Banff or Jasper and also to Whistler from Jasper. The exciting new route, the Coastal Passage, from Seattle (which debuted in August 2013) will be available on select dates throughout 2014 and 2015. Twelve new departures have been announced in 2014 and 18 Northbound and Southbound departures in 2015. The Rocky Mountaineer trains only operate during daylight hours to maximise your viewing experience and pleasure.
Rocky Mountaineer train route map:
The Whistler Mountaineer™ train now known as the Whistler Sea to Sky Climb, is a three-hour experience connecting North Vancouver and Whistler which allows you to take a complete rail loop from Vancouver, Whistler and Jasper.
Quick link to this page: RockyMountaineerHolidays.com